I love an old classic church with beautiful stained glass! Columba's Episcopal Church in Washington, DC is a place that held many memories for the bride and her family.  The ceremony was personal yet so refreshingly formal.  Reverends Amy and Rose were delightful to work with as was Marti the church coordinator.  Having wonderful people to work with always makes my job so much more enjoyable!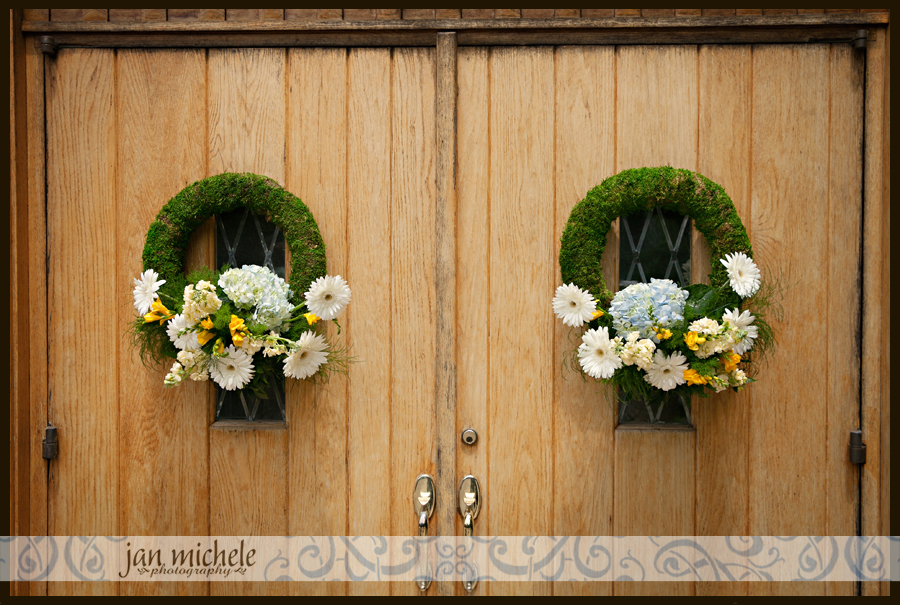 The bride had her ring with it's unique shape, made just for her. 


Thank goodness for YouTube and a groomsman who learns quickly and did an expert job with all the green bow ties!  Letting each of the groomsfriends wear their own suits or dress, was tied together (no pun intended) with the matching ties and socks.  


The bride's sister, who was instrumental in all the wedding planning, was a pro at tying the wedding gown bow. 








And the bridesfriends.  I loved how they had a very traditional and beautiful ceremony, yet didn't let formality control their day.  They had their friends on their side, regardless of gender, and let the wedding party select their own clothes within the color palette.  Adding wildflower style florals completed the casually coordinated look. 


She wore her mom's veil and the lace was just perfect against her simple open backed tulle gown. 




Blues and yellows and greens were the wedding colors, all combined in this wildflower bridal bouquet. 


These three ladies had such a bonding time with the wedding planning and made so many memories throughout the process. The bride was completing her PhD and lived several hours away, so really relied on her mom and sister to help with so many details.  






This church has such a pretty little garden for pictures.  Hard to tell it was 100% humidity and everyone was melting!












The stained glass windows in this church were so beautiful! 




The Mary Todd room at Lincoln's Cottage is set aside for the bride.  And seemed to require a formal throw back portrait.






The rain kept the cocktail hour inside the cottage rather than on the lawn.  But the grounds were that vibrant spring great that is so lovely.   And limitless photo locations! 








It's amazing how much air these fans provide on a super sticky day! 






No one ever said cutting through fondant was easy.  haha! 


The toasts by the bride's siblings were heartfelt, and funny. 










The tent was beautiful, the setting so historic and meaningful.  I'd so love to photograph another wedding at Lincoln's Cottage!  Anyone else getting married here??


Who is going to catch the bouquet??


So much fun was had by all ages dancing to the swing band – what a great idea!


Church: St. Columba's Episcopal Church, Washington, DC
Reception Venue: Lincoln's Cottage, Washington DC
Caterer: Catering by Seasons (the food was SO good and Stefanie Lowery and all her staff were awesome to work with!)
Cake: M&T Events
Florist: Potomac Petals & Plants
Swing Band: Craig Gildner and the Blue Sky 5
Tent: Sugarplum Tent Company
Photographer: jan michele photography