Lindsay and Chris were married on what I'd like to say was a picture perfect day, but it wasn't.  It was dark and dreary and started out rainy.  However, that did not dampen the joyous occasion nor impact how beautifully their pictures turned out.  Weather does not make a wedding day, as nice as it is to have sunshine.  Some of my favorite weddings days we never saw the sun.  The day is so much more about the love between a couple and the unconditional, enthusiastic love and support from friends and family.  That is what shines through the day and the pictures.
I so enjoyed working with Lindsay and her mom as they planned Lindsay's elegant wedding day.  I loved her choice of the Meridian House for a romantic mansion reception, it really fit Lindsay's vision.  I photographed Lindsay's sister's wedding 6 and a half years ago so it was wonderful to reconnect with this sweet family of triplets.  A brother completes the trio.
Congratulations Lindsay and Chris, I hope you're having a fabulous time in New Zealand!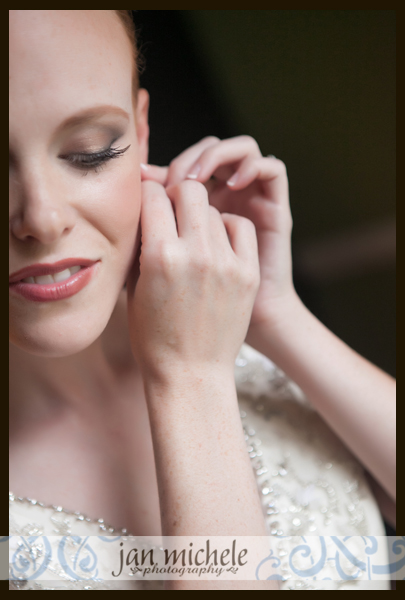 The Meridian House is a beautiful backdrop for a stunning bride.




















Such a striking couple in the most romantic place. 








The Library.


The Drawing Room.






Fluffy Thoughts makes spectacular cakes.


Looking from the Linden Grove into the Loggia.


The toasts always bring smiles and tears.


The first dance in the Dining Room.




Three generations on the dance floor.


The Linden Grove is pretty throughout the evening. 






The toss – and catch!




The send off with mom, dad, sister and grandfather in the background lovinglingly cherring them on.


Reception Venue:
Meridian House
Church: St. Mark's Lutheran
Wedding Planner: Atrendy Wedding – Natalie
Hair and Makeup: Carola Myers
Caterer: Well Dunn
Florist: Holly Chapple Flowers
Band: David Zipse and Good Foot
Cake: Fluffy Thoughts
Lighting: Frost Lighting
Transportation: Fleet Transportation
Video: Blue Sky Film
Photographer: jan michele photographer
Assistant Photographer: Jamie with Borrowed Blue  Thank you Jamie for coming down to shoot with me!  Photo credit for several room shots goes to Jamie.